When thinking of secure, scalable and low-cost hosting for WordPress , you may consider AWS WordPress Hosting option.
If you want to know more on AWS WordPress hosting cost compared to other popular web hosting services then read this blog post carefully from beginning to end and if you don't understand something then comment, I will answer every question.
AWS WordPress Hosting
You are probably searching for the best WordPress hosts on the market, and Amazon Web Services (AWS) comes up in your search results and other popular website hosting services like Bluehost and SiteGround.
You have probably heard of Bluehost and SiteGround but little about Amazon Web Services AWS; you are curious about what they offer and if you should host your new WordPress website on Amazon web hosting services.
Amazon Web Services offer much more than web hosting for WordPress websites. They offer cloud global computing, storage, analytics, applications, and other web cloud services for organizations, web services, and web applications.
In this article, I'll explain concisely what Amazon Web Services (AWS) is, and how their cloud services compare to other popular web hosting services.
Ready? Let's go.
What is Amazon Web Services?

Amazon cloud hosting or Amazon Web Services (AWS) is a very secure cloud services platform that provides everyone (individuals and businesses) with low-cost ways to deliver their websites and web applications.
With Amazon cloud hosting:
You pay as you go: Amazon's web hosting is flexible and customizable to your own needs; you only pay for what you need.

Supports many kinds of CMS (content management systems); Drupal, Joomla, WordPress, and much more.

AWS has data centers all over the world, so you can host your website where your audiences are and in any location in the world.

Amazon web hosting allows for scalability; you will have no technical downtimes for those times your traffic will come in droves or those down times when they trickle in. Amazon can handle it all.

You get one month free as a new user on the AWS free-tier*.
*Amazon Cloud Services gives you access to over 85 powerful cloud computing tools free; this way you get to try them out and see what services will suit your needs. However, most of these tools have heavy restrictions and/or stringent time limits and sometimes permanently free.
AWS Lightsail vs. Bluehost
Amazon Web Services is not your typical new "kid on the block," they have been around as far back as 2006; you might not have heard of them as much because they cater to a lot of cloud hosting needs than just basic web hosting.
And the average blogger might not want to talk about them as much because it might get quite technical.
However, if you are wondering how a popular web hosting service like Bluehost compares to AWS, read on.
I wrote a comprehensive and detailed article on How to start a blog with Bluehost.
I moved over to Amazon EC-2 from Bluehost, and here is why: for me, AWS is a more future proof option. I intend to grow and scale my website to millions of visitors (someday), and AWS seems just like the right web hosting platform that can handle such volume at a cheaper rate for me.
I'll break down my reason in bits so you can understand why I switched over to Amazon EC-2 from Bluehost.
Pricing
I only pay for what I use. AWS WordPress hosting is cheaper than other competitors. (I'll stick to Bluehost as the major competitor in this article since I have used their services before.)
AWS WordPress hosting price for a month is $3.50 per month, and Bluehost costs $5.95 a month; $2.45 is not a significant amount but wait till I tell you more about why you consider hosting your WordPress website on AWS.
Traffic
Both platforms can handle a vast amount of traffic you send to your website.
Amazon Web Services can handle a higher volume of traffic because they build their products to handle scalability and complex cloud computing.
Switching from Bluehost to AWS, my website's load time reduced from 9s to 3s (to get my website fully loaded), and this helps Google's SEO algorithm favor your website more.
Bandwidth
Bluehost says there is no specific amount of bandwidth allocated to any of their plans; in their words: "These resources are 'unmetered', meaning they do not bill you according to the amount of disk space or bandwidth used."
With AWS, you get a maximum capacity of 25Gbps. This is enough for anyone to host their website or deploy lightweight applications.
Allow me to answer some frequently asked questions about hosting your WordPress website on Amazon Web Services.
Is AWS Hosting Good For WordPress?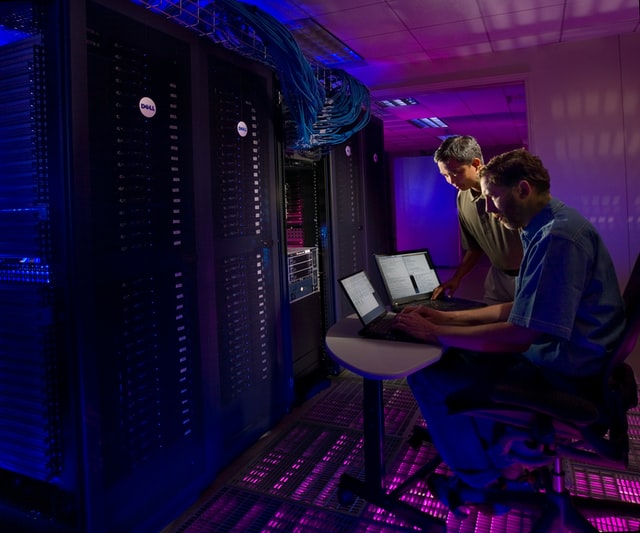 Amazon is not just a suitable host for your WordPress blog; it is an excellent option for anyone looking to get serious about their blogging career. 
According to Similar Tech's comparison between AWS and Bluehost, Amazon hosting is the lead hosting platform for the top 10k sites, top 100k sites, and even the top 1M sites, and also for the entire web. 
What is AWS Lightsail?
Amazon Lightsail is by far the simplest and easiest way to get started on AWS. It offers you every tool you need to build your website or application, at a cost-effective pay-as-you-go monthly plan. They designed it for users looking to start small and then grow. 
What Are The Features Of Amazon Lightsail?
Amazon Lightsail is an all-you-need cloud platform. It comes bundled with some features that make your website or web application come to life. 
Some features of Amazon Lightsail are
You get your own virtual private server (VPS): Amazon Lightsail automatically provides a VPS of your choosing with DNS management, SSD based storage, data transfer, and a static IP address all bundled in a package.

Lightsail gives you access to a powerful and flexible API that lets you integrate or extend your applications with other applications. 

Amazon Lightsail allows you to set up your virtual private server with a few clicks using preset templates for your favorite CMS like WordPress, Magneto, etc.

Lightsail servers are backed up by Amazon's powerful cloud computing. Your VPS is protected and safe for the long haul. Don't take my word for it; even the USA intelligence agency, the CIA, has relied on AWS for their cloud computing since 2013.

Amazon's servers are available worldwide, so you can serve your audiences and host your servers wherever they are. You can host your servers in major locations like Europe, Asia, and the Americas. 

Amazon Lightsail offers a pay-as-you-go that is customizable; you only need to pick the services you need and scale as you grow. As a new user, you get one month free if you choose the most basic plan.

Protect your data with Amazon Lightsail snapshots, which helps you clone your server or backup. For a very affordable monthly cost, you can snapshot your server whenever you want.
 Amazon light sail is powered by Amazon Elastic Compute Cloud (EC2) and other powerful AWS services that millions of websites trust Amazon for their security, scalability, and reliability.
Benefits Of Using AWS Lightsail Hosting?
You Are Always In Control: You can completely control how things are set up, how your website should run, and even how much you are going to pay at the end of the month.

 Simple and Easy To Navigate UI: If you are familiar with Amazon's cloud computing services, it can be hard to find your way around. In order to enjoy all that AWS offers, you must have some technical knowledge or google your way around using AWS. 

Amazon Lightsail helps you launch your VPS in no time, even if you have not understood about cloud computing. 

AWS has everything their customers need to scale, and they do not leave the Lightsail out of these features. If you need advanced features like a content delivery network, managed databases, or connection with other AWS features.

One reason the Amazon Lightsail service is so popular is its affordability. Their plans start from $3.50 (that comes with the first month free). The good thing about Lightsail is as your needs increase and you need more cloud computing power, the prices slightly increase, the cost stays within budget.
How much does Amazon Lightsail Cost Per Month?
 It starts from $3.50 per month on their Linux/Unix servers and starts from $8/month on their Windows servers (The Linux/Unix server will serve you just fine as a beginner). As a new user on their Free Tier plan, you get one month free to host your WordPress website. The image shows the different Amazon Lightsail pricing options. 
How To Host WordPress on AWS Lightsail?
As I mentioned earlier in this article, using Amazon's cloud hosting can be a little tricky; one must google his way around to find answers.
Let me walk you through how to host your WordPress website on AWS.
This part is for beginners that do not understand how AWS works.
Amazon introduced the Amazon Lightsail that makes it for beginners to deploy their website on AWS.
Step 1. Create An Amazon Lightsail Account (This link is free tier eligible.)
Step 2. Create A WordPress Instance* in Lightsail
(An instance is a virtual environment where you can deploy your website or applications on it.)
After signing up for your Amazon Lightsail, sign into the Lightsail console, choose the Instances tab on the Lightsail homepage, click on Create instance.

Step 3. Choose The Best AWS Region and Availability Zone for your instance.
Note: Picking an AWS region that has proximity to your state might be the sensible thing to do, but can cost you a lot of money in the long run.
Concurrency Labs explains in this article how you can choose the AWS region wisely and save a lot of money, or Cloud Academy's piece on the same subject.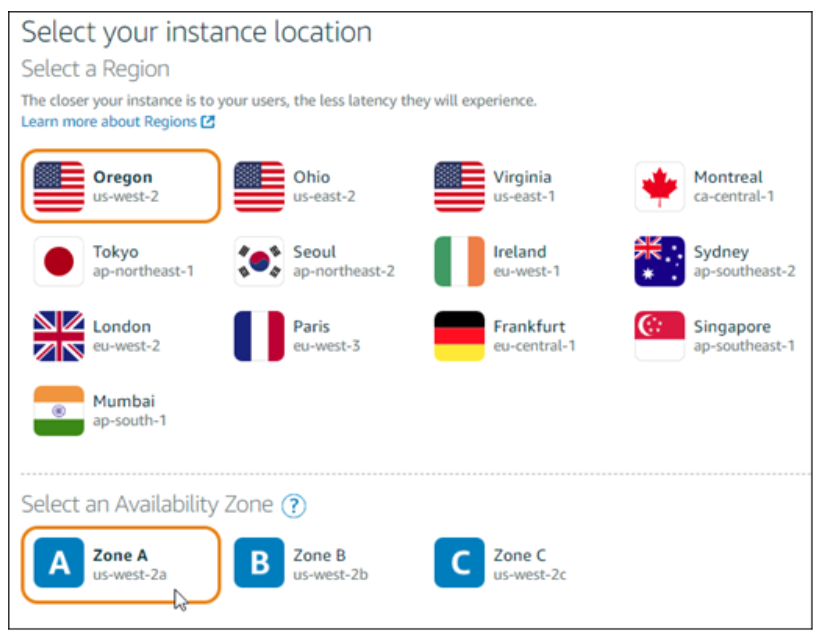 Step 4. Choose Your Instance Image
Pick

Linux/Unix

as the platform.

Choose

WordPress

as the blueprint.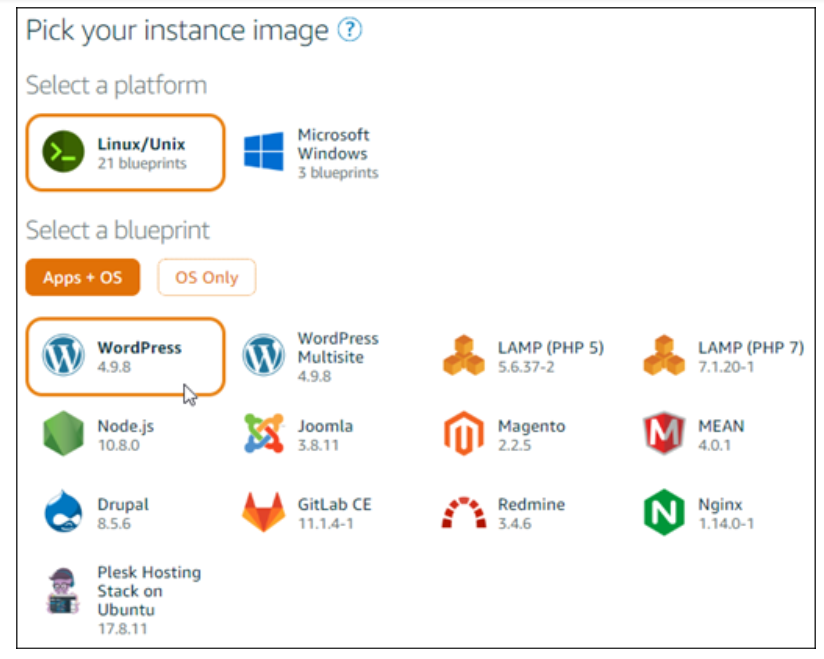 Step 5. Choose the $3.50 plan to get one month free activated to your Free Tier plan.
Note: The only plan that allows you to get one month free is the $3.50 Lightsail plan.

Step 6. Enter A Name For Your Instance.
Guidelines for entering the right name for your instance:
May be as short as 2 characters or as much as 255 characters.

Must start and end with an alphanumeric character or number.

Must be unique within each AWS region in your Lightsail account.

May contain all kinds of characters, numbers, periods, dashes, and underscores.
When you have entered the name of your instance, click on the orange tab that says Create instance.

After you have created your instance, it is time to connect your instance via SSH server. This is where you get the password for your WordPress website.
Step 7. Connect your instance via SSH.
On the Instances tab of the Lightsail Console, choose the SSH quick-connect icon for your just created WordPress Instance.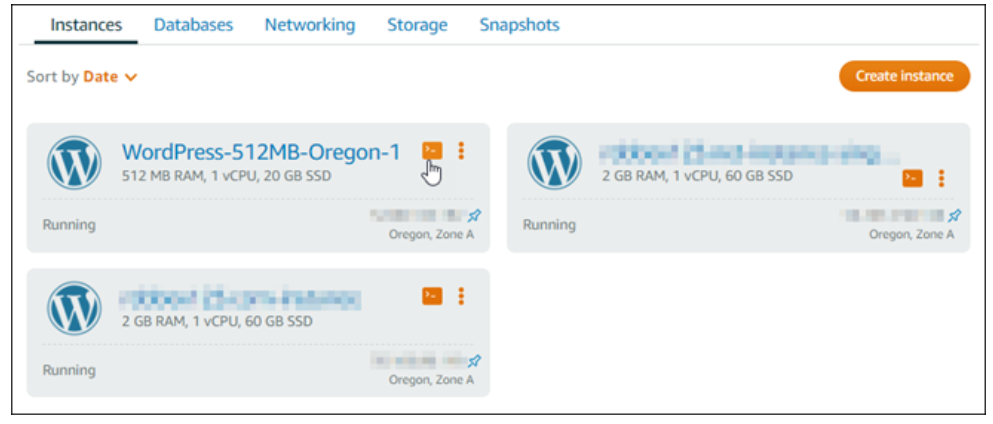 After the SSH client window opens, type in the command below to get the default application password:
cat $HOME/bitnami_application_password
When you enter the command, note the password at the bottom of the screen like the image below.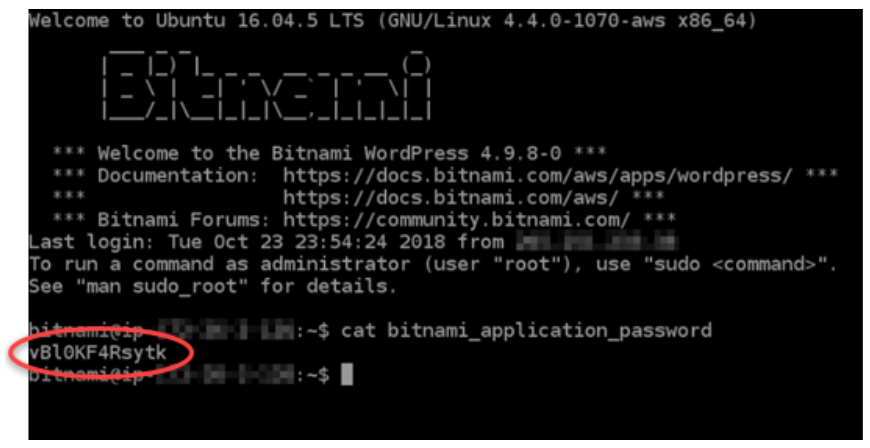 Step 8. Log into the administration dashboard of your WordPress website
You have the password of the administrative end of your dashboard. When you sign in, you can change the password, install plugins, edit the theme of your website, and much more.
Follow these steps to sign in to the administrative dashboard of your WordPress website.
In your browser, enter the link below.
http://PublicIpAddress/wp-login.php
Next, you are going to replace the PublicIpAddress with the public IP address of your WordPress Instance. You can use the Instance's public IP address from your Lightsail console shown below.

2. Log into your instance.
In the

Username or Email Address

placeholder box, type in

"user."

For the

Password

box, enter the default password gotten earlier in this article.

Then click

Log in.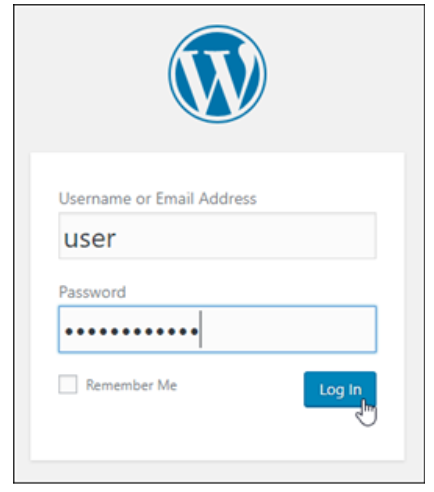 You are now logged into your administrative end where you can perform administrative actions.
Step 9. How To Create Lightsail Static IP address And Attach It To Your WordPress Instance.
To avoid your default public address for your WordPress Instance from changing when you stop and start your instance; you need to attach a static IP address to your instance. This way it stays the same if you start and stop your instance.
Go back to the

Lightsail Home Page

, and pick the

Instances

tab, choose the WordPress Instance running you just created.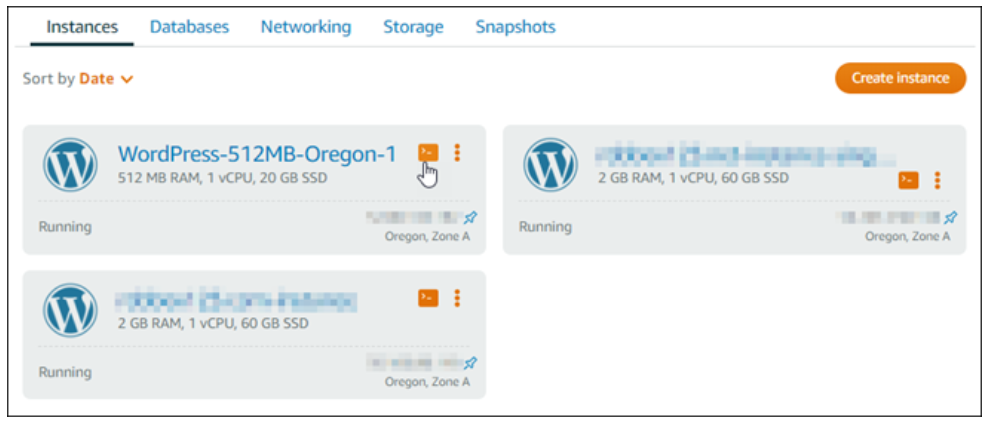 2. Click the Networking tab, then click Create static IP.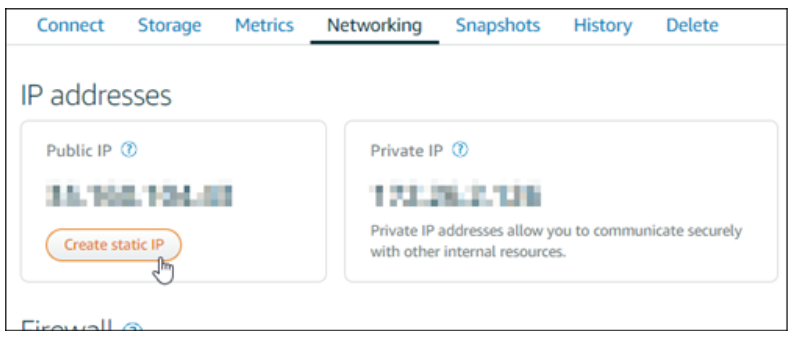 3. The static IP location and attached instance are pre-configured according to the instance you chose earlier in this article.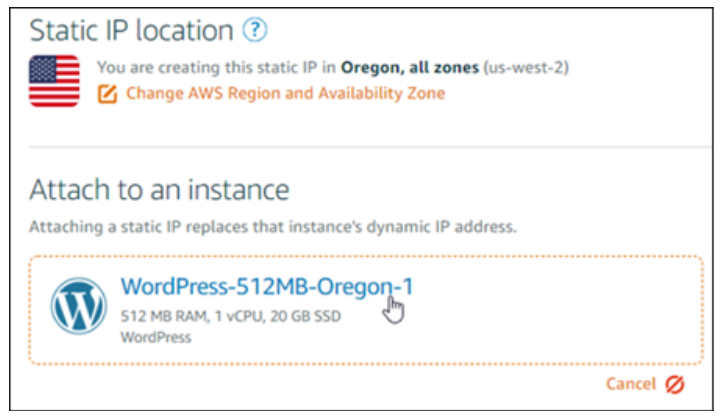 Pick a name for your static IP, then click

Create.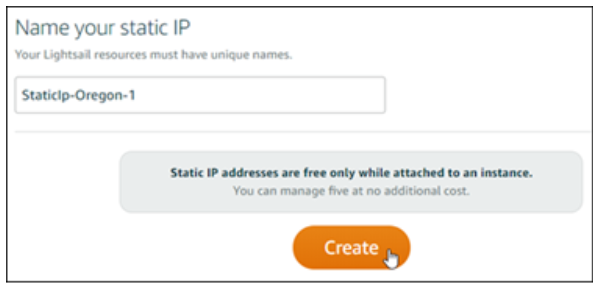 Congratulations! You've successfully hosted your WordPress website on Amazon Lightsail.
If you need help to navigate using Lightsail, visit the Amazon Lightsail resource center here.
Conclusion
Amazon Lightsail is a solid choice if you are looking for a hosting service to develop, build, and deploy any kind of web application like WordPress, websites, and platforms.
However, new users might be overwhelmed with all the choices that they may have to pick from to start their project, not to worry, there are tons of resources on Google to help. Using AWS might be a little technical, but worth it.
Some people have brought up the fact that AWS does not have an email – that is not a big deal, Zoho mail is an excellent alternative, as they are free and easy to set up.
New users might need to have some technical skill to manage their AWS console, as support is not as responsive as other shared hosting providers.
Some users might find this troubling, but compared to the speed, reliability, and security, control, and affordable pricing AWS offers, it is definitely worth jumping on Amazon's web services wagon.
Hopefully this post gives you a better picture of AWS WordPress hosting landscape. if you find this post useful, please comment blow.
The Secret Email System eBook
The eBook where you learn the whole Secret Email System.