This blog post shows some low cost hosting plans for new bloggers. As you read until the end of this post, you will have a good idea on different low cost hosting plans, what factors to take into consideration when choosing a web hosting plan, and which web hosting plan meets your needs and budget.
Do you want to start your own website? Perhaps you have an idea for a blog or some online business. In order to do so, you will require hosting of one form or another. But what is "hosting", and which type of hosting is right for you? If you are a newbie or beginner to the internet world, some of this may seem too technical or complicated for you. Don't worry though, you've come to the right place! This article has the beginner in mind and will assist in pointing you in the right direction. We will break down several of your potential options, whether you're a small business or have a strict budget, and are looking for low cost hosting plans.
Disclosure: This article may contain Affiliate Links. If you purchase anything after clicking an affiliate link,  I will receive a commission from qualifying purchases. That's how I maintain this website. This is at no additional cost to you. In fact, I can guarantee you get the best price when using my links.
The Secret Email System eBook
The eBook where you learn the whole Secret Email System.
Why do we need web hosting? Before we analyze your options, let us first define what "hosting" is, as it relates to websites and the internet. To keep things simple, a hosting company provides the infrastructure to make your website accessible to the World Wide Web (the internet). The company contains physical computers, known as servers, that house or "host" the files that make up your website. Obtaining reliable hosting is an essential first step in getting your website aspirations off the ground.
Some of the considerations you should be aware of when choosing a hosting provider are:
Reliability (uptime)
Technical support
Ease of use
Cost
Security (SSL certification)
Storage (how big will your website be in terms of informational content?)
Bandwidth (how much traffic will your website bring?)
Email (does the provider offer an email account with your hosting package?)
Types of web hosting services
1.

Shared Hosting
The most basic type of web hosting is Shared Hosting. It's a popular, low cost hosting plans, entry-level web hosting product. As the name suggests, websites using this type of web hosting will be sharing their resources with other websites on a single server,  including processor, memory, bandwidth, and disk space.  
When you are just starting out, your website can be hosted on a relatively low cost shared server, and opting for the lowest priced option is a smart business decision.
This type of server typically has smaller disk space and bandwidth allocations than other types of server. They are also usually the cheapest option. The smallest shared plan allows you to host one website with your account. 
2.

Virtual Private Server (VPS)

 
This is the next step up from a shared hosting. With this hosting you have your own dedicated server resources. Your performance won't get bogged down because of what someone else is doing. Although physically it may be the same computer server, you have your own virtual server. So another user can't hog server resources and grab from you since your resources are dedicated to you only. Great option for hosting small-to-medium sized business sites that require more power and speed than Shared Hosting. 
There are several levels of VPS hosting based on the value of the allocated resources , but the cost is generally based on the server resources.
3.

Dedicated Hosting

 
The top web hosting is hosting through dedicated servers. As the name suggests you will have a server whose resources are entirely yours. This is the most expensive option but it also provides a lot of additional features. Dedicated hosting is a great option for large websites and for users who need root access.
4.

Content Delivery Network
A content delivery network (CDN) is a web hosting platform that helps you minimize delays in loading web pages and their contents by reducing the physical distance between the server and the user. It allows for quick transfers of assets needed to load the web page quickly. The content delivery network was developed to increase speed, reduce latency and increase redundancy. Latency is the delay in delivering your web pages to your visitor.
A content delivery network is a completely different configuration. Instead of a single server in a particular location as the case in a traditional server setup, a content delivery network is a network of edge servers located around the country and around the globe. These edge servers hold multiple copies of your static web content. When your web visitor visits your website, the website content is delivered from the nearest edge server.  This reduces the time it takes to load your website and content since it's coming from the nearest web server. If the closest edge server is down, your content will still be delivered to your web visitor.
Cloudflare and Amazon Cloudfront are an example of CDN. Cloudflare provide a free account for personal websites. There is even a WordPress plug-in that will help you set up this CDN. You have to get an Amazon Web Services account, but you pay only for the services you need as long as you need them.
Why Shared is Low Cost Hosting Plans
As the name implies, shared web hosting means multiple websites share the resources of a single server. The main reason hosting providers may allocate several websites to one computer (server) is to keep costs low, for themselves as well as the consumer. Computer efficiency and processing power have seen exponential growth in recent decades, so there is typically no technical difficulty in allocating one server to several websites.
If you have a website idea in mind but are strapped for cash, or you just want to get your feet wet in the vast ocean of the internet, then you should consider a shared web hosting plan.
Some low cost hosting plans currently available start at under five dollars a month! Many companies like Bluehost, DreamHost, and HostGator have special intro offers beginning at a few dollars a month. 
Other than cost, another major factor you should consider with shared hosting is technical support. The quality of technical support you can expect from hosting providers varies between companies. Support quality is also generally less for shared accounts than for accounts with a dedicated server (servers hosting one, or a very limited number of websites).
Lastly, and certainly not least important is the issue of uptime. This refers to the time your website is "up", as in being accessible through the internet. Sometimes server maintenance, or unforeseen technical issues on the host's end, can cause websites to "go down" (downtime). This is of course highly undesirable. Most web hosting service providers do an excellent job of keeping their servers running and running smoothly. The best shared hosting plans are cheap but very reliable.
Bear in mind, however, that hosting your precious website on a shared server could run the risk of potentially more downtime when compared to having what is known as "dedicated hosting" (where specific computing resources are "dedicated" to a single client).
Shared Hosting Pros & Cons
The Best Shared Web Hosting Companies
The Low Cost Hosting Plans for WordPress
is an open-source website content management platform. That was a mouthful. In layman's terms, WordPress is a software platform you can use to build websites. It an open-source platform, which means developers and programmers from all over can contribute to the platform's software. Many themes that dictate the look and feel of the website are available, as well as programs of all sorts (plugins, widgets) that contribute to the functionality and customization of a website. Since its inception in 2003, WordPress has seen enormous growth and popularity. Close to 70 million websites now operate on the WordPress platform. Chances are, you too will become very familiar with WordPress if your aspirations are serious enough.
Due to the popularity of the WordPress platform, most, if not all web hosting providers have tailored their servers to install and host websites that use this hosting platform. These servers must meet a minimum hardware and software requirement threshold to efficiently run WordPress for their clients. This ensures data is processed efficiently, pages are loaded quickly, and there is, in general, a lack of technical issues.
You should definitely consider a hosting provider that offers WordPress hosting if you want to build an awesome website. Whether it's for a blog, a business, or anything in between, WordPress hosting will very likely be the way to go. Your hosting company probably has a one-click installer or will install WordPress software for you.
How to Choose the Best WordPress Hosting, Considerations:
As mentioned previously, WordPress is popular, so almost all hosting companies offer a multitude of packages. When you are shopping around, here are some basic, yet fundamental considerations you should take into account, especially if you are a beginner looking for low cost hosting plans for your WordPress website. 
The best WordPress hosting companies offer many, if not all of the following:
Customer Support: Many providers offer 24/7, 365 support. This is good. Especially if you are a beginner and have unintentionally "broke the internet". In the author's experience, many service providers have very professional support staff, who are well trained to deal with your difficulties.
Uptime: As previously mentioned, uptime is very important. Why have a website at all if people can't get on it? Most service providers guarantee a 99 plus percent uptime and are proud of it.
User-Friendly Interface: Hosting companies that offer WordPress hosting have a back-end interface known as a control panel or cPanel. All of them are relatively similar, but some may be easier to navigate and operate than others.
Shared Hosting/ Dedicated Hosting: Shared hosting is typically the entry-level package available through most hosting providers. Does the WordPress hosting company offer shared and dedicated hosting?
How to Choose the Best WordPress Hosting – Packages and Prices: There are many options available, so in order to get the best deal, you'll have to shop around and compare. Bear in mind, however, that there is usually a compromise between price and support as well as the quality of the interface. You may have to compromise with low cost hosting plans.
Number of Domains: Some packages allow for your hosting company to host only a limited number of domains for the package. Others allow for unlimited domains. Will you be focusing on one major project at a time? Or will you be engaged with multiple websites?
SSL Certificate: An SSL certificate is coding that when installed onto a web server, provides encryption and therefore secure connections between the server and browser. You will notice some websites have the prefix – http://, for example http:/www.example.com. These websites do not have SSL certificates and are vulnerable to all types of online malevolence. Websites that do have this coding will have the prefix https://. These sites, although not impervious to infiltration, do provide some buffering. Many hosting providers offer SSL certification for free!
WordPress Hosting Pros & Cons
The Best WordPress Hosting Companies
The Cheapest Small Business Hosting
Do you own a small business and want to expand your operations and presence on the internet? Indeed many hosting companies provide packages and options with the small business owner/operator in mind.
According to some statistics and reporting on the subject of small to medium-sized businesses, roughly half do not have an online presence at all. This gives companies that are willing to invest time, energy, and capital into a website have a definite competitive advantage over those that do not. This is becoming more and more evident, as the vast majority of consumers nowadays will research a specific company online before visiting a physical retail location or make major purchases.
With a small business, especially if you are planning to conduct financial transactions online, security is of utmost importance. The low cost hosting plans for small business provide reliability and security. Does the hosting company provide SSL certification? Also, reliability (uptime), as well as price, are important considerations.
The Best
Small Business 
Hosting Companies 
The Best Cheap Hosting
The cost of website hosting has never been cheaper. Some providers out there also offer free hosting! That's right! What is cheaper than free! I suppose if someone gives you money and a product or service. If you find a host that can do that let us know!
Is free web hosting really free? While free is good in some regards, there is a catch. While providers may be able to provide you with ridiculously cheap or free hosting, they still have operational costs they must pay for. They must purchase the servers and power them with electricity, as well as pay the rent and utilities in the place the servers are stored.
So how could they offer a "free" service and still be able to take care of all these expenses? While not paying the hosting provider directly, your website may have to display advertisements that compensate the provider. The provider may also severely limit the traffic to your website and attempt to aggressively upsell you into a paid service. So, while we all seek to maximize the value of our money, sometimes you really do get what you pay for in terms of quality. The best cheap hosting plans offer economic rates without sacrificing quality.
Considerations
Some things to look for when considering "free" hosting are storage space, bandwidth, advertising, and upselling.
The actual amount of computer storage space the server will be able to allocate to your "free" website may be severely limited.
Bandwidth refers to the amount of information your website can handle at any given time. If you are planning to have a website with plenty of graphics, videos, and a high volume of traffic, free hosting may not be the way to go.
The last consideration is the amount and quality of advertising that will likely have to be displayed on your website. You will have little to no control over this. You may also be constantly bombarded with emails trying to upsell you on a variety of products, not just web hosting. Hosting service providers must make ends meet somehow.
Cheap Hosting Pros & Cons
The following providers offer super low cost hosting plans (free):
WordPress.com. Not to be confused with WordPress.org, WordPress.com offers free web hosting
Wix.com. There is a free hosting plan available with this provider. Your website will display advertisements and Wix branding that you will have little to no control over. You will be encouraged to buy a paid plan.
Weebly.com. Free hosting and access to their intuitive drag and drop website builder. Display ads may smother your website.
Low Cost Hosting Plans (But Not Free)
The Best Cloud Hosting
You may have heard the term "cloud" regarding the internet or computers. But what exactly is "cloud hosting"? A cloud is not so much a physical, tangible computer as it is the interconnection of certain computers. Cloud technology utilizes several interconnected devices to store and retrieve data, host websites, and do a whole host of other things.
Various applications use a cloud configuration to accomplish various tasks. Google Docs, Google Sheets, and DropBox all utilize "cloud" technology. Hosting a website can also be accomplished through the cloud. The main benefits of this cloud hosting are the scalability and flexibility this method provides. More or less computing power and resources can be accessed through a network of servers as the needs of the website change. The efficiency of such a hosting method makes cloud hosting worth checking out if you are looking for low cost hosting plans. The best cloud hosting plans offer scalability as well as reliability and security.
Cloud Hosting Pros & Cons
The Best Cloud Hosting Companies
Low Cost Hosting Plans Comparaison
The Secret Email System eBook
The eBook where you learn the whole Secret Email System.
#1 Hostinger (Simple Shared Hosting – $0.99/month)
Hostinger is the cheapest provider when renewal prices are factored in – the Single Shared plan is only $0.99/month if you sign up for four years. Cheapest quality web hosting and affordable renewal rate with strong onboarding experience for WordPress plans. Hostinger offers many valuable hosting features at a competitively low price (one of the cheapest in the market) for its users. They have multilingual customer support. Suitable for new bloggers, small business and freelancers.
Hostinger Pros & Cons
Recommendation:
If you're looking for the best most well-rounded web host and the best overall balance of value, features, and add-ons, then you definitely should go with Hostinger.
#2 InMotion (Lite – $2.49/month)
InMotion offers the best value for money. They provide free backups, domains and SSL security certificate as well as unlimited email accounts, a website builder service, and 24/7 dedicated support. They have three shared plans, VPS and dedicated hosting. InMotion shared plan Lite (starts at $2.49/mo) is great for newbies, individual bloggers and freelancers who are looking for a low cost hosting plans. For eCommerce and websites with larger traffic – we recommend InMotion's VPS solution (starts at $29.99/mo). They provide customer loyalty discounts to their long term customers, to take advantage of this, you need to contact their customer service department 30 days prior to renewal.
InMotion Pros & Cons
Recommendation:
We recommend InMotion for their numerous features, reliability and performance-focused resources. Their cheapest plan starts at $2.49 per month which is great for newbies, individual bloggers and freelancers who are looking for an affordable hosting solution.
#3 Bluehost (Basic – $3.95/month)

Bluehost is one of the biggest name in the web hosting industry. They are a good choice for starting a blog. They offer the best quality features. Bluehost is better known for WordPress hosting, and there are cheaper shared hosting providers out there. The setup process for WordPress is super elegant. Bluehost makes sure that you have a smooth and solid experience. They have a great support, you just click help or you do a live chat, and they are right there to help you. I did have a pretty positive experience with Bluehost.  Aside from the brilliant uptime and free backups/domains, there's also 24/7 support, plus an inclusive SSL security certificate.
Bluehost Pros & Cons
Recommendation:
If you're looking for the most flexible web host with lots of different add-ons and options available for purchase that you can add to your website and your hosting experience, Bluehost is a great option. One thing to keep in mind when you sign up for Bluehost is some of the upsells are pre-checked by default. As per my experience and user feedback, I highly recommend Bluehost for WordPress websites and blogs.
#4 DreamHost (Starter – $2.59/month)

DreamHost is a premier managed WordPress hosting provider. They have more than 20 years experience hosting over 1.5 million websites, blogs, and online stores — there's no better place to host your WordPress site. DreamHost offers the best month-to-month options, in my opinion, if you're looking for that well-rounded experience and you don't want to break the bank and you're not able to pay yearly. You can get started right away, and they make it simple to sign-up for that. One thing I love about DreamHost is they do daily backups automatically and they do it for free. 
DreamHost Pros & Cons
Recommendation:
Finally, if you're like I really don't have a lot of money, I just want to pay the minimum amount possible monthly and that's it, I can't afford to pay yearly, I don't want to have to pay for upsells or extra things for daily backups or any of that, then DreamHost is gonna be the way to go for you. I would recommend DreamHost if you're looking for a month-to-month option and the best value and not breaking the bank.
#5 HostGator (Hatchling – $2.75/month)

HostGator is another one of those very large hosting companies that you might recognize right away. They've been out there for years and they have a huge presence online. The price is only $2.75 per month if you pay for three years at once. They have no setup fees, no forcing a year of hosting on you. HostGator is generally famed for dedicated hosting, but its shared hosting service is still one of the very best on the market.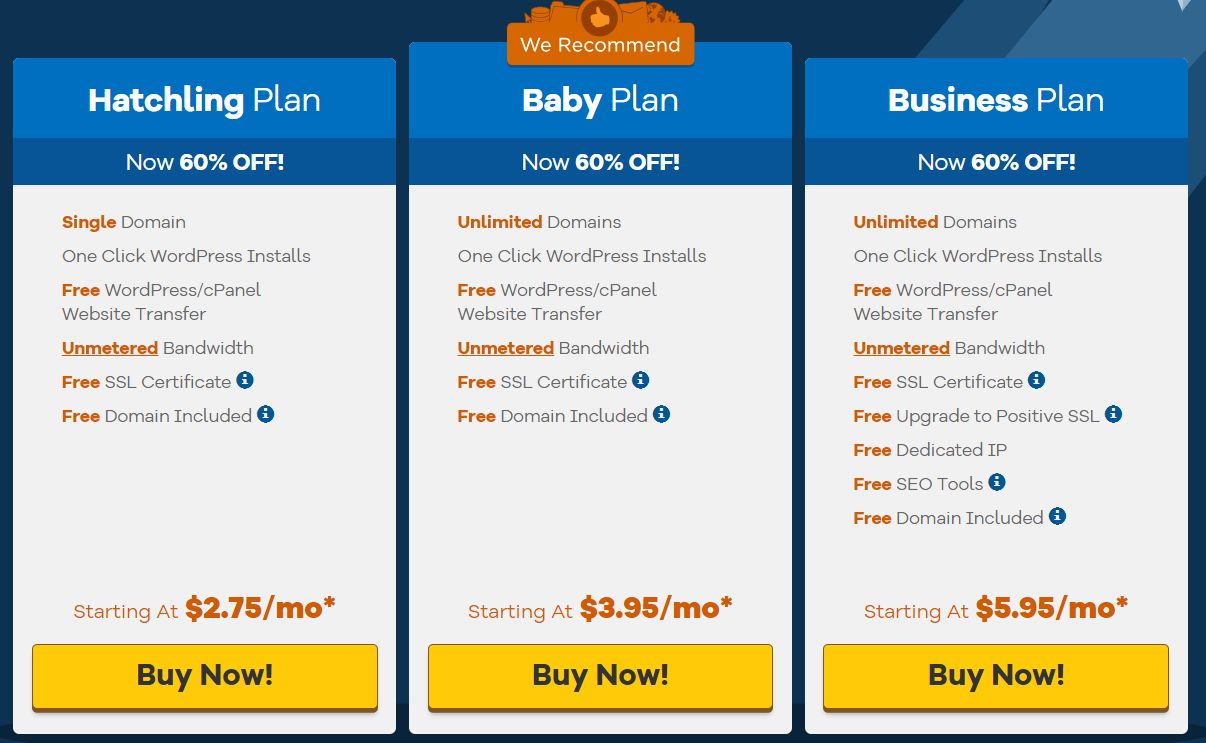 #6 A2 Hosting (Startup – $2.99/month)
A2 Hosting is one of the oldest web hosting companies. They have been out there for years. It is one of the most reliable web hosting service providers available in today's marketplace, serving more than 300,000 websites in the world. A2 Hosting is well known for its robust and speedy server. With a built-in caching tool called the A2 Optimized Tool, sites that are hosted on A2 Hosting loads much faster than most web hosts. Plus, you don't have any technical knowledge or do any host configuration to enable it. With features and technology such as SSD storage, Railgun Optimizer, and pre-configured caching to its shared hosting customers, they continue to raise the standard for shared hosting speed. If speed is important to you, then A2 Hosting is definitely worth checking out. Suitable for newbies, budget users, individual bloggers, small-to-medium businesses, online store, freelancers, eCommerce, and large website forums. They have the best for customer service and the best support team we've come across. A2 is slightly more expensive, but they have lighting fast servers, by far the best response times I've ever witnessed. Customer care and knowledgeable staff are at the heart of everything A2 do. You'll feel supported from the get-go.
A2 Hosting Pros & Cons
Recommendation:
I personally prefer A2 Hosting because of its speedy and robust infrastructure. This is because A2 Hosting is the fastest hosting for WordPress and having great support as well (average < 10mins from live chat). This company is known to be reputable and customer-center, which makes me confident to suggest their services to you.
#7 GreenGeeks (Lite – $2.95/month)
GreenGeeks are 300% green hosting (industry's top). Your website will be "carbon-reducing" when hosted on their platform. You can feel good that you're helping make a difference by hosting on a platform that is eco-friendly. They have five server locations. Their data centers are located in Phoenix, Chicago, Toronto, Montreal and Amsterdam. They have excellent speed features. They are a great option for anyone looking for an eco-friendly hosting solution. Their plans are suitable for newbies, individual bloggers, small-to-medium businesses and freelancers.
GreenGeeks Pros & Cons
Recommendation:
GreenGeeks are not necessarily the best web hosting company we have seen, but we recommend them based on the solid speed, uptime, service and the great customer support.
#8 SiteGround (StartUp – $6.99/month)

SiteGround is one of the most popular and highly recommended web hosting company. They are hosting over 2 million websites. They are also WordPress's officially recommended hosting provider. SiteGround offers managed WordPress service. They have developped many powerful solutions for WordPress in-house such as the WordPress Starter, WordPress
Migrator, SG Optimizer and more. SiteGround is the best option available in shared hosting. They have very high recommendations from experts. Last but not least, they are recommended by both WordPress.org and WooCommerce as one of the best WordPress hosting providers. Overall  SiteGround is a better provider – definitely one of the more reliable. 
SiteGround Pros & Cons
Recommendation:
If you are looking for a great uptime and fast support, you won't go wrong with SiteGround. SiteGround is well known for its uptime (99.99%) and customer support. They have great features such as the Super Cacher, which is a built-in caching tool that can make websites load faster. Another feature is the ability to install Let's Encrypt SSL with just a few clicks, making it extremely convenient for users to secure their website. SiteGround is suitable for business owners and professional bloggers who want a worry-free hosting solution.
#9 iPage ($1.99 / month)
iPage have been out there since 1998 as a full web service provider, but the company re-launched operations as a web hosting provider in 2009. iPage hosts currently more than one million websites in its two large data centers located in Boston and Waltham in USA. Below are the introductory prices for the three terms with the monthly renewal price. The introductory prices are for the first term of service only and automatically renew at the regular rate. They provide Sitelock basic version for free with the hosting plan which scans the website files for malware. Sitelock scans your website daily for malware that could block visitors, and makes sure that you are free of spam. It also validates that your business exists and can be trusted, by giving you access to a highly recognizable badge that you can display on your homepage.
#10 Namecheap (Stellar – $1.44/month)
Namecheap has always been a company I've loved for domains. It is really easy to set up and their new easy WP hosting is so extremely intuitive and it is the fastest I have ever seen a WordPress site get set up and up and running and on the internet.
Namecheap's easy WP hosting is completely targeted at being fast, easy, and simple with nothing else, no gimmicks, and it's very reasonable, costing only $3.88 a month or $22.88 a year. It's really hard to find downsides to Namecheap's hosting. It's incredibly fast and smooth and the experience is just so simple, I think this is gonna be appealing for those of you who don't want to tinker with a bunch of panels or settings.  Auto-backups are allowed with Stellar Plus and Stellar Business which are made every 3-7 days. However, all Shared packages include Backup Manager which allows to make backups manually.
Keep in mind that only Namecheap Stellar Business Hosting plans are based on Cloud Storage. Here, your website is hosted on a virtual machines (VM), running on a readily-available VM infrastructure.
Namecheap Pros & Cons
If you're just looking for a simple and easy set it and forget it web host for your WordPress website, Namecheap is gonna be for you. There's hardly any options to mess with, but that's the beauty of it if you don't wanna worry about things. Just keep in mind that extra added cost for CodeGuard if you want your website backed up daily.
Conclusion
By now you should be able to answer several questions for yourself: why do we need web hosting? Where can I host my site for free? What is a good price for web hosting? Obtaining reliable and low cost hosting plans are crucial for realizing your online aspirations. There are many options available, most of which were discussed here. It may seem overwhelming for a beginner, but remember one thing: the time to start a website is now! Website hosting has come a long way, and the quality of service provided has never been better. 
Starting your website is easy. Simply pick a plan by clicking on one of the links above, and follow the signup process. Once your account is activated, you receive a few emails from your hosting company with your login information and service activation notification. From this point you will be able to access your WordPress dashboard, and start creating your website.
If you have any doubts about building a website or blogging, you could join My Online Startup, a free training for beginners that shows you exactly how to start a blog and build a sustainable online business.